Home value appreciation accelerates, breaking new records with 19.6% annual gain.

Inventory drops below 1 million to record-low levels – down 40.5% from December 2019.

Rents are up 15.7% from last year, but growing at their slowest pace since March.
There were fewer options for would-be home buyers on the market at the end of 2021 than any time in recent memory, according to Zillow's December 2021 Market Report. And the limited supply seems to have reignited home price appreciation, as monthly home price growth accelerated in December for the first time since July.
The Zillow Home Value Index (ZHVI) rose 1.4% in December from November, to $320,662, up 19.6% from December 2020. The annual growth rate represents an all-time high in data dating back more than 20 years – and after falling in each month since peaking at 2% in July, the monthly pace re-accelerated from 1.2% between October-November. If monthly price growth holds steady at December's pace, that would translate to an annual growth rate of 17.7%.
This reversal of 2021's second-half slowdown extended to local markets, too. Monthly home value growth accelerated from November to December in 35 of the nation's 50 largest metro markets. Put another way, while a majority of the nation's biggest markets experienced a month-month slowdown in November, a majority experienced an acceleration in December. Among the nation's 50 largest markets, the slowest monthly growth in December was in Milwaukee (0.2%), followed by Buffalo (0.4%), New York (0.6%), Hartford (0.6%) and Sacramento (0.6%). The fastest was in Nashville (2.8%), Atlanta (2.4%) and Austin (2.2%).
Inventory Plunges to Record Lows
We may need to look no further than the astonishingly low levels of inventory this winter to help explain the resurgent upward pressure on home values. After slipping modestly in November, inventory outright plunged in December, dropping a further 11.1% to a new record low of about 923,000 homes nationwide. Buyers at the end of 2021 were left with 19.5% fewer homes to choose from than they had at the close of 2020 – itself an already thin year for buyers looking for choice. Compared to December 2019, there are now 40.5% fewer homes available for sale.
Inventory's stalled-out rebound is even more striking in light of the near-complete expiration of mortgage forbearance, which some (Zillow included) speculated may trigger a wave of forced listings this autumn. It is still possible that some distressed homeowners will list their homes for sale later this year if they are unable to reach repayment agreements with their lenders. But so far, it appears the forbearance program was largely successful in achieving its goal of keeping people in their homes and avoiding the wave of foreclosures and distressed sales that characterized the 2008-2012 era housing market. To whatever extent that homeowners exited forbearance by selling their homes, contributing to Q3's modest inventory rebound, those listings seem to have been digested already by eager homebuyers.
Inventory was down in December from November in at least 49 of the nation's 50 largest metros (monthly data for Nashville is unavailable), and was down year-over-year in 47 of the 48 largest metros for which full data is available (December 2020 data for Milwaukee and Nashville is unavailable). The largest annual inventory declines in December among the largest 50 markets were in Miami (-48.0%), Denver (-40.3%) and Raleigh (-39.2%). Inventory was up year-over-year in Austin (+14.6%).
If there is one small silver lining for frenzied would-be homebuyers contending with rapid home value appreciation and limited inventory, it's that the speed of the market has gradually slowed down since reaching a peak early in the summer. In June, the typical U.S. home spent just one week on the market before going under agreement. That time frame has risen every month since, to roughly 13 days in December (up from about 11 in November). It's worth noting that homes typically take longer to sell in the fall and winter months as back-to-school, shorter days and the holiday season all tend to eat into both buyers' and sellers' schedules. But while homes staying on the market less than two weeks before selling is still incredibly fast for midwinter, those extra few days may matter a lot to those buyers that need a little more time to assess their options.
Along with a longer time on market, there is also typically a drop-off in homeowners putting their properties up for sale in December. But the 18.9% monthly drop in newly listed inventory last month was the largest in the last three years. The rise of the omicron variant of coronavirus could be partially responsible, pushing homeowners to wait for case counts to subside before listing.
Workers are also less certain about their long-term working arrangements, which could impact their plans to move. A December survey by Zillow found that 52% of workers report that their employer has announced post-pandemic work arrangements – a lower share than was reported in June 2021. One possible explanation is that the rise of new coronavirus variants has caused employers to push back in-person start dates indefinitely.
Workers whose employer has announced post-pandemic work arrangements are more likely to say they are considering a move within the next three years: 51%, versus 41% for those whose employers have not outlined a plan.
Rising Rents, Rising Inflation
The Zillow Observed Rent Index rose a record 15.7% year-over-year in December, to $1,855/month. But unlike home value growth, the monthly and annual pictures are different. Rents rose 0.7% in December from November, a further slowdown from 0.9% monthly appreciation in November.
Rents grew year-over-year in all 50 of the nation's largest metros. Among the 50 largest metros, annual rent appreciation was fastest across the Sunbelt, with the fastest growth in Miami (29.6%), Tampa (28.6%), Phoenix (26.0%) and Las Vegas (25.1%). Annual rent growth was slowest in Minneapolis (5.6%), Milwaukee (7.3%) and Pittsburgh (7.8%).
The rapid growth in rents is now being picked up, after a delay earlier this year, in official measures of inflation. The main Consumer Price Index component measuring rents, the Rent of Primary Residence, rose 3.3% year-over-year in December, or almost 0.5% month-over-month. Combined with rising Owners' Equivalent Rent, which was also up 0.4% in December, the rising shelter components of the CPI are contributing to overall inflation – now registering its fastest growth in almost 40 years.
Looking Ahead
Existing home sales are expected to continue growing through 2022, approaching levels not seen since 2005, while annual home value growth is likely to peak and plateau in the early months of 2022 before slowing somewhat through the end of next year.
Home values are expected to grow 4.1% in Q1 2022, and to end 2022 up 16.4% from the end of 2021, with the pace of annual growth expected to peak at 20% in February before gradually slowing throughout the remainder of the year. The near-term, three-month forecast is up slightly from 3.7% growth expected previously from November to February. Longer-term expectations for home value growth have also risen: We previously expected 14.3% growth between November 2021 and November 2022. The robust long-term outlook is driven by our expectations for tight market conditions to persist, with demand for housing exceeding the supply of available homes.
Almost 6.6 million existing home sales are expected to close in 2022, up 7% from 2021. Existing home sales volume rose to 6.46 million (SAAR) in November, extending a streak of stronger-than-expected monthly gains towards the end of an up-and-down 2021 (December 2021 existing home sales data are scheduled to be released by the National Association of Realtors on Jan 20, 2022). This better-than-expected showing is the main contributor to the strength in our near-term outlook for the series.
However, downside risks to our forecast remain. Elevated inflation heightens the risk of near-term monetary policy tightening, which would result in higher mortgage rates and weigh on housing demand. The 30-year fixed rate broke above 3.5% this week, for the first time since Spring 2020. Higher rates are exacerbating buyers' struggles with affordability, and they might dissuade some existing homeowners from moving, by raising the monthly mortgage cost of even those homes priced similarly to their current homes. By dampening both buyers' and sellers' appetite in this market, rising rates could drive down sales volumes this year, with uncertain effects on home prices.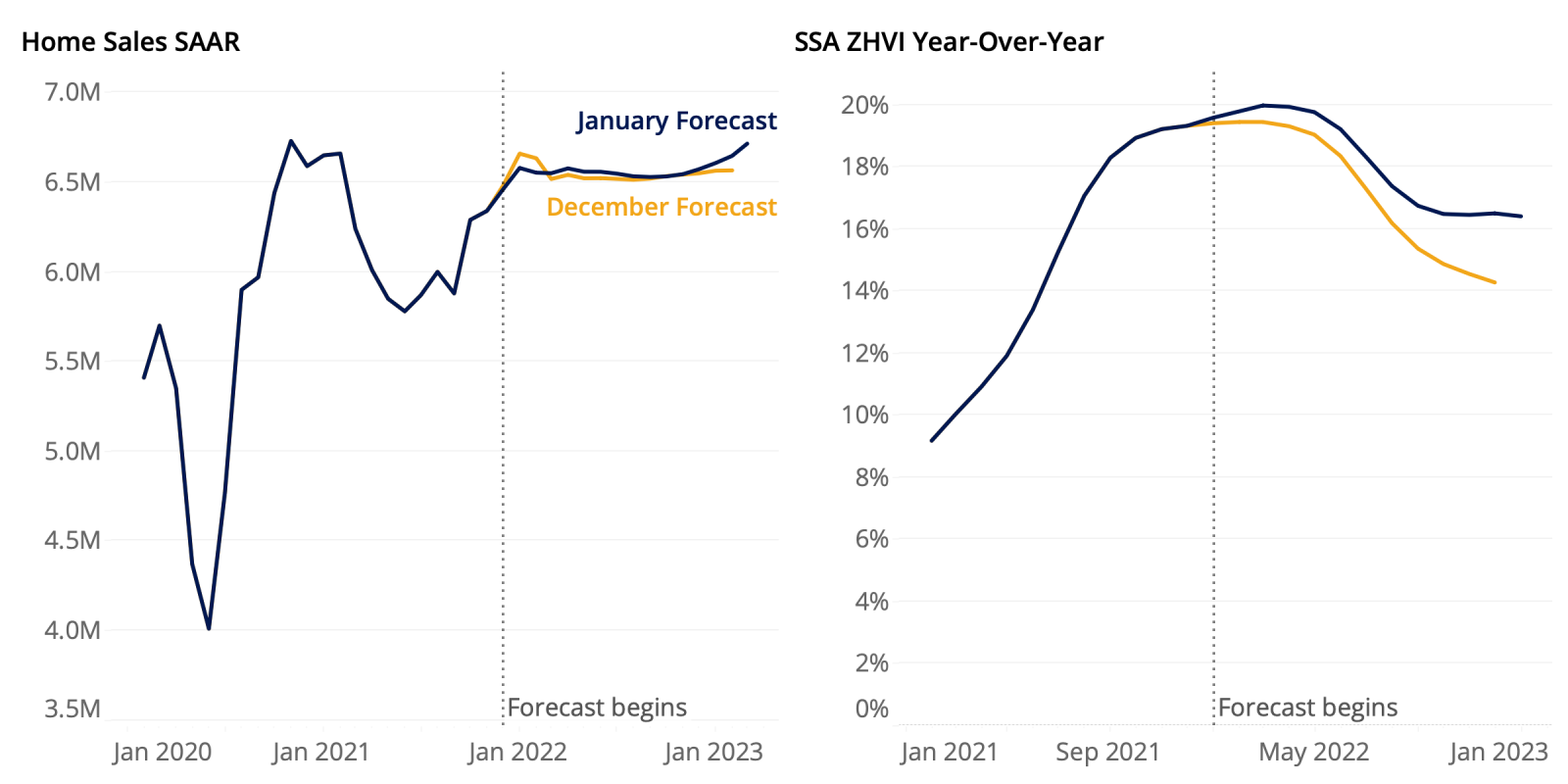 Sorgente articolo:
Inventory Down 40% from Pre-Covid Level as Price Growth Intensifies (December 2021 Market Report) – Zillow Research