UPDATE 6:15 P.M.: A Boone County resident has tested positive for COVID-19 after visiting the Lake of the Ozarks during Memorial Day weekend, according to the Camden County Health Department.
The health department posted on Facebook on Friday saying that the resident had been in the lake area on May 23 and 24.
According to the post, the person got to the lake on Saturday and started developing the illness on Sunday.
The department said anyone who may have been in the following places at the following times are asked to monitor for symptoms:
Saturday, May 23

Backwater Jacks around 1 p.m. to 5 p.m.
Shady Gators and Lazy Gators Pool from 5:40 p.m. to 9 p.m.
Backwater Jacks from 9:40 p.m. to 10 p.m.
Sunday, May 24

Buffalo Wild Wings from 1 p.m. to 2 p.m.
Shady Gators around 2:30 p.m. until about 6:30 to 7 p.m.
Taxi from Shady Gators to a private residence around 7 p.m.
Health officials said anyone monitoring for symptoms should look out for headaches, fever, shortness of breath, cough, body aches, nausea, diarrhea, vomiting, and loss of taste or smell.
UPDATE 4:55: P.M.: The University of Missouri's Columbia campus is reporting hundreds more furloughs and salary reductions and dozens of new layoffs since last week.
MU posts updates on its actions to save money each Friday on a website. The data is current as of Wednesday and includes MU Health Care.
The latest update shows 17 new layoffs, bringing the total to 83 to save $3.09 million. MU reported 640 more furloughs, bringing the total to 1,683 to save $2.5 million. Another 534 workers had their salaries reduced, bringing that total to 1,572 to save $4.51 million.
Among those pay reductions was the Office of Extension and Engagement, where non-exempt employees will take a 10 percent pay cut for the next three months.
MU said the pay reductions combined with layoffs and furloughs will save the department $2.7 million, or 12.5 percent of its budget.
The university is trimming costs as COVID-19 continues to hit state revenue. UM System leaders are anticipating a drop in state funding in the coming budget year.
UPDATE 4:30 P.M.: Randolph County reported a new case of COVID-19 on Friday.
The county of about 25,000 people has seen relatively few cases during the pandemic but reported its 10th case Friday. There are now two active cases in the county.
Callaway County also reported two new cases, bringing the number there to 28. Seven of those cases are active, county health officials said. They were the first new cases reported by county health officials since Monday.
Cole County reported no new cases Friday. Cole County officials continued to report 57 cases with two active.
Boone Hospital Center testing site moves
Boone Hospital Center said Friday that it is moving the location of its mobile COVID-19 testing spot.
The testing location will now be at the Doctor's Building at 1504 E. Broadway. People can enter the site via William Street or via Broadway, the hospital said in a news release.
Hours will remain 8 a.m. to 4:30 p.m. on weekdays and 8 a.m. to noon on Saturdays. The testing is for people with mild symptoms who have already seen a doctor.
UPDATE 3:15 P.M.: Boone County's COVID-19 case total continued its increase on Friday, though at a lower level than the past two days.
The county counted three new cases Friday, bringing its total to 141, after increasing by six on Wednesday and nine on Thursday. The county has added 33 new cases in the last week.
The county now has 32 active cases — up two from Thursday.
Boone County has one of the fastest growth rates for COVID-19 cases of any county in the state, according to data maintained by the Missouri Department of Health and Human Services. The growth came after several weeks of little to no growth in cases and a few weeks after a stay-at-home order lifted.
The county's current health order allows all businesses to reopen, though with social distancing requirements and occupancy limits.
Local and state officials have also beefed up testing in recent weeks, with Boone County holding mobile testing events for anyone with symptoms of COVID-19. The state health department and Missouri National Guard will also provide tests to anyone who wants them Monday and Tuesday outside Hickman High School.
UPDATE 2:25 P.M.: Missouri deaths from COVID-19 increased by 31 Friday.
The jump took the state's overall number of deaths to 738 and was one of the largest daily death totals since the beginning of the pandemic. However, health officials have warned the date deaths are reported is not the same as the date the death took place, which can skew results.
Death totals posted on the state's COVID-19 dashboard show 29 as the highest number of daily deaths during the pandemic, coming on April 25. State health officials have cited delays in reporting from some jurisdiction for some high daily death totals.
All but 19 of the statewide deaths have been reported in people age 50 and older.
Boone and Audrain counties continue to have some of the fastest growth rates in cases statewide, according to the state dashboard. Audrain has the second-highest rate with a nearly 43 percent increase over seven days, while Boone is in eighth place with nearly 21 percent growth.
Overall cases statewide made a small increase, going up 122 to 12,795. It was the smallest daily increase since May 21.
The Missouri Hospital Association reported 648 COVID-19 patients hospitalized as of Thursday — Friday numbers had not been released at the time of this update. The number is well below the peak number during the pandemic, which reached more than 900.
The association reported more than 2,000 ventilators were available statewide.
UPDATE 12:10 P.M.: The Isle of Capri Casino in Boonville will reopen at 8 a.m. Monday.
The casino announced the plan to open in a Facebook post Thursday. Table games will open at 10 a.m. and the hotel will open Wednesday, according to the post.
Missouri's casinos have been closed under order of the Missouri Gaming Commission since March 17 — the same day the Cooper County Health Department said a COVID-19 patient was on the Boonville casino floor for about two hours.
Missouri Gaming Commission Chairman Mike Leara said the commission will allow the current order to expire on Sunday. He said the move will reactivate licenses for all casinos in the state and they can open subject to regulations from local goverments.
St. Louis County Executive Sam Page has ordered the county's two casinos to stay closed until later in June but casinos in the city of St. Louis and St. Charles County will reopen, Leara said.
ElDorado Resorts, which operates the Isle of Capri in Boonville, has posted information on its website about social distancing and cleaning procedures. Slot machines will be rearranged to make social distancing possible, the company says.
The number of players at table games will be limited and dealers will provide each customer with hand sanitizer.
"We are working closely with public health officials and gaming regulators to take our already stringent safety and cleaning standards to the highest level," the Boonville casino said in its post.
Leara said the commission has been in communication with casinos and he recently visited the Ameristar casino in St. Charles County to see what measures were being put in place. At the Ameristar casinos, Leara said, barriers will be up between dealers and players and staff will wear face masks.
The Booville casino furloughed 350 workers last month, citing the COVID-19 pandemic.
UPDATE 11:05 A.M.: Columbia College plans to host in-person classes in the fall that will then transition to online-only at the Thanksgiving break.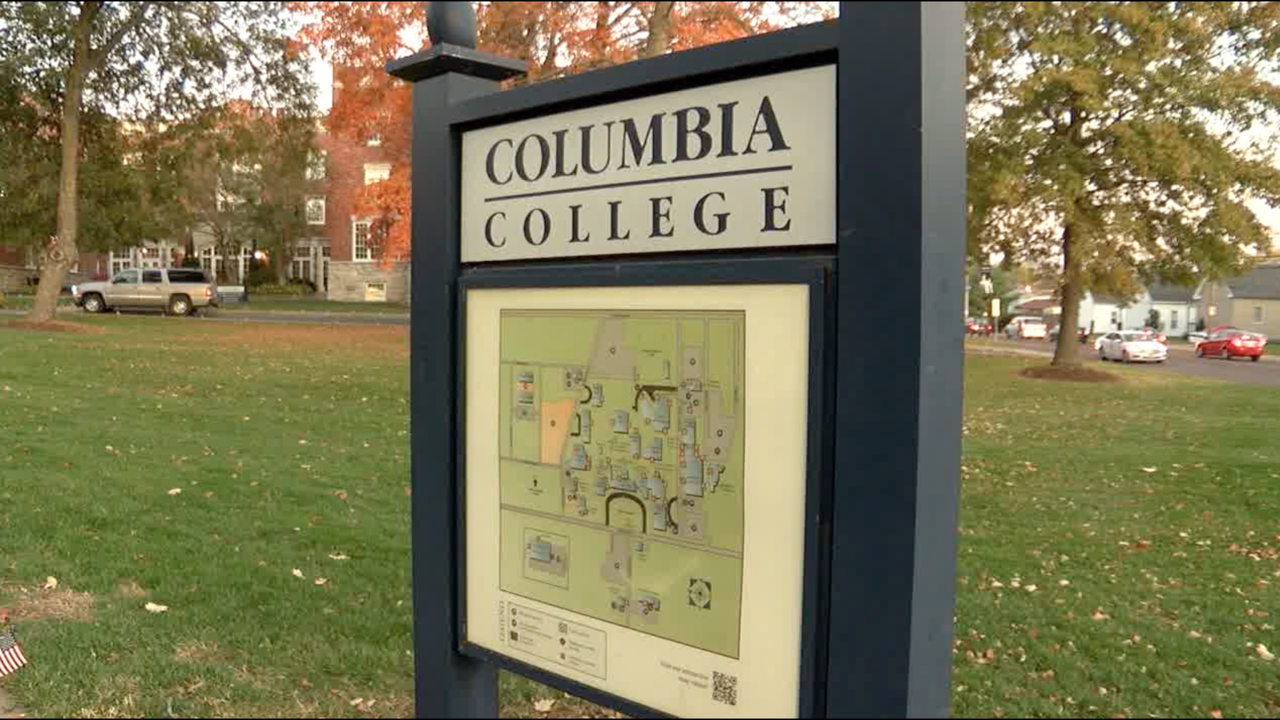 The college made the announcement Friday on its website. The college plans to implement social distancing, mask wearing, deep cleaning and other safety precautions.
In-person classes will begin Aug. 31 and continue through the start of Thanksgiving break on Nov. 20. The break ends Nov. 30, at which point classes will become online-only until the semester ends on Dec. 17.
College spokesman Sam Fleury said the reason for the change to online-only after the break is driven by student safety. The college does not want students to have to return to campus for the relatively short time remaining in the semester after the break, Fleury said.
The extra time will also allow for a thorough disinfection and deep cleaning of the campus including residence halls before the start of the spring semester, according to the news release.
Health officials have also warned of a potential resurgence in COVID-19 cases in the fall.
Columbia College plans to host two commencement ceremonies on Dec. 19, depending on local health regulations in place at that time.
"We are committed to offering our students the excellent in-seat, residential experience we always have," college President Scott Dalrymple said in a news release. "We are hopeful that all will go smoothly, but as we've seen, things can change quickly. Our faculty members are ready to shift to fully virtual instruction should that be required for the health and safety of our campus community."
Columbia College plans to start in-seat instruction Aug. 31 at its other campuses around the country but details are still being developed.
In-person campus tours for prospective students begin Monday.
UPDATE 10:40 A.M.: Test results are in for the first 42 clients at a Missouri hair salon who were potentially exposed to the coronavirus by two infected stylists, and they all tested negative.
The Springfield-Greene County Health Department is testing 140 clients of a Springfield Great Clips. The first results were announced late Thursday. It isn't clear when all of the results will be complete.
The health department announced last week that a stylist served 84 clients while experiencing symptoms of COVID-19. A co-worker also became sick and potentially exposed 56 more clients.
The health agency says both of those stylists tested positive.
Great Clips said this week it was closing locations in the Springfield area after they received threats.
ORIGINAL: A mobile COVID-19 testing site will be available in central Columbia Friday.
The site will be set up at Douglass Park from 9 a.m. to 1 p.m.
Columbia/Boone County Public Health and Human Services along with several Columbia hospitals will provide the tests for anyone with symptoms of an acute respiratory infection.
The testing is free, but the health department asks anyone who wants to get tested to bring a form of identification and insurance information.
Sorgente articolo:
FRIDAY UPDATES: Boone County resident tests positive for COVID-19 after lake trip – ABC17News.com